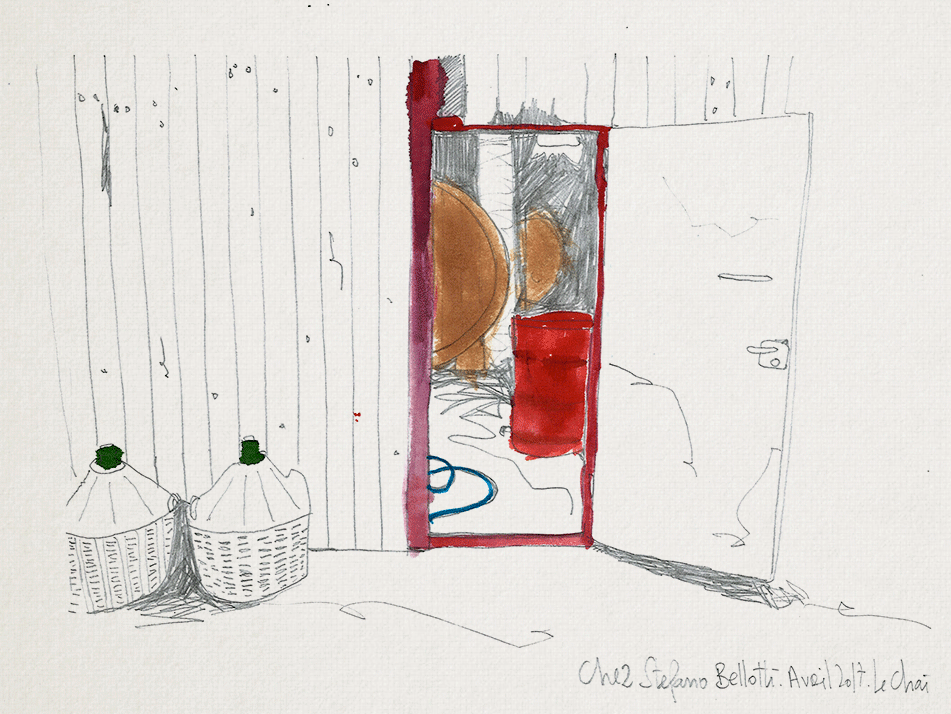 Following pre-established rules in a living environment cannot work long term.
Stefano Bellotti,
Cascina Degli Ulivi
Last Spring, I had the occasion to visit a few winemakers whose wines had tickled my curiosity these last months: a wonderful opportunity to meet passionate and fascinating characters.
The sensitivity of living things according to Stefano Bellotti
On the way to Siena, we stopped in Piedmont to visit Stefano Bellotti, one of the fathers of biodynamic viticulture in Italy and a producer of VERY natural wines!
From Novi Ligure, small, winding roads lead to Cascina Degli Ulivi, Stefano's estate, diving you into a green, sunny setting, at the heart of which is the farm established so long ago that everything appears preserved like in a dream where life expresses its full potential, unhindered. A fine example of biodiversity: most of the animals evolve in total freedom on the estate, such as ducks walking in single file on the farm's roof, the geese wander in well-organized gaggles on the paths between the holiday cottage and the farm, where chickens are pecking amongst the vines. Magnificent wisterias grow a little everywhere, in the trees, on electric poles, punctuating the site with bright violet from their flowered clusters.
In 1977, Stefano Bellotti was only 18 years old when he took over the family farm which had only one hectare of vines. Today the farm totals twenty hectares of vines, a dozen of wheat and fodder but also a huge vegetable garden and fruit trees as well as beehives you can see all over the estate.
Stefano Bellotti stays in tune with all his types of farming and always adapts himself to their needs: " Following pre-established rules in a living environment cannot work long term. When you listen to plants, it's incredible what they give you in return."
In the vineyard, Stefano obviously applies biodynamic principles. He also plants cover crops which he cuts and leaves to decompose on the soil even once they have withered. Apart from the cover crops, grass is never cut between the rows of vines just as the vines are never pruned so that they can find their own stability. Stefano does not want to intervene with the vine's energy. As if it gets going again on all the vines. He thinks that will have an influence on the grape's quality as well as the vine's capacity to struggle against diseases.
At the Cascina Degli Ulivi, the host's table is a real pleasure, at dinner as well as breakfast. Cooked produce comes essentially from the farm, produced biodynamically. Fresh bread is a treat (there is a bread oven just beside the holiday cottage!) All the dishes exude the terroir's flavours, the chef stepping aside in front of so many tasty riches, he cooks all these fine products simply – Ah! The antipasti! Ah! The ravioli with wild asparagus!
What's more, all the estate's wines are offered on the wine list, with many different years: what a pleasure being able to discover all the different touches of the dozen vintages Stefano suggested. His wines are just like his farm: sometimes rustic, sometimes creative and always imbued with freedom. If he listened to himself, he would make a wine per row of vines in each plot because he reckons that the grape's characteristics are different coming from the same type of vine!
We left enchanted by this stopover, fed with all those delicious tastes that are good for the mind and body, faithful to their terroir, offered to you as a mark of respect and generosity towards the passing visitor.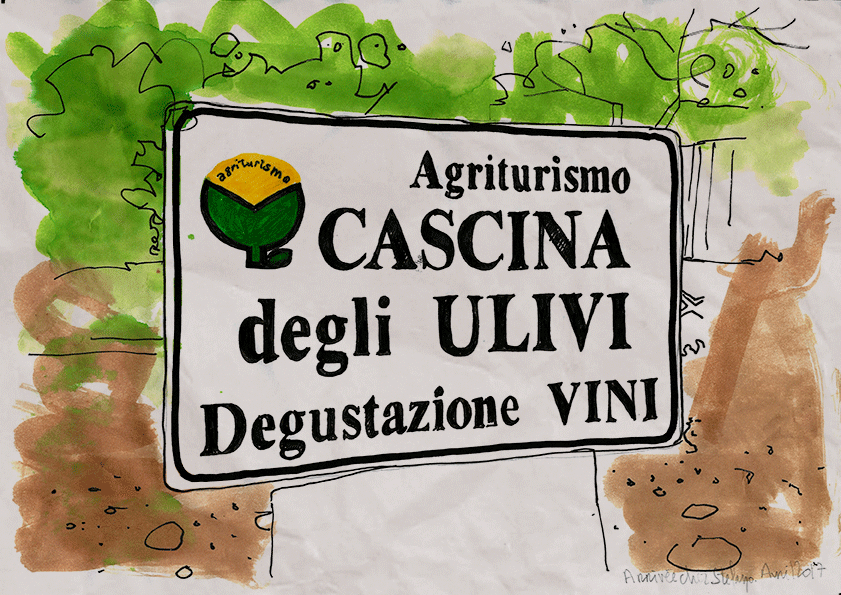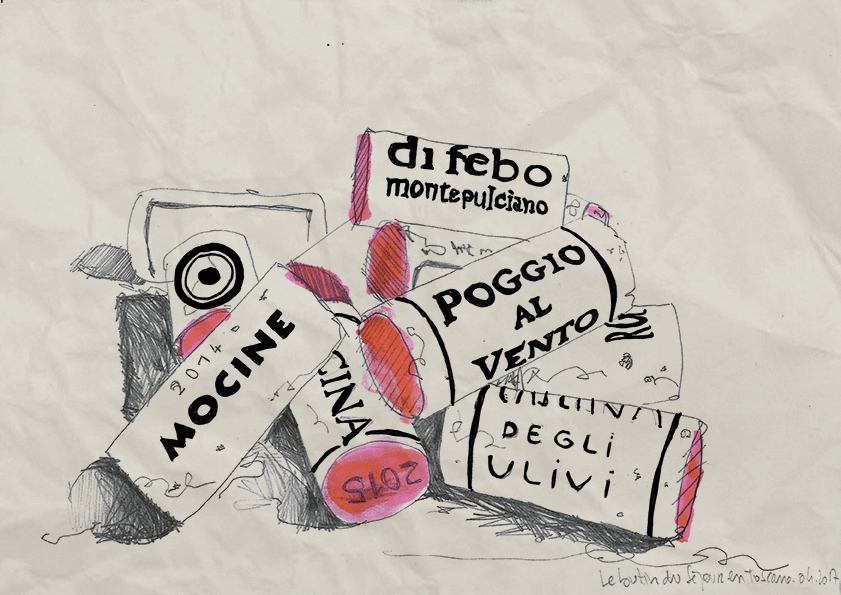 Showing respect to ancient varietals according to Azienda Agricola Mocine
In Tuscany I first of all went to meet Valerio Brighi at the Azienda Agricola Mocine, an estate nestled in the heart of the Crete Senesi, a fascinating beautiful landscape, where the hilly areas change during the whole length of the journey under a magnificent Tuscan light. The day of our arrival, refreshed with the Northern wind, Francesco, the cellar master, welcomed us into the cellar.
The Azienda Agricola Mocine is a relatively new estate whose first vintage goes back to 2007. Just ten years ago, the choice was made from the outset to focus on the production of quality wines from native grape varieties with strict selection and optimum ripeness; everything guided organically without synthetic additives. Today the estate accounts for five hectares. The wish is to preserve this surface to ensure the qualities of the wines and to accompany each vintage as much as possible so that it reveals its aromatic potential.
Around 25,000 bottles leave the cellar every year, distributed through four red wines and one white. Four grape varieties are principally used in these wines: Sangiovese, Colorino, Barsaligna and Foglia Tonda.
The Santa Marta and Mocine wines are matured in stainless steel vats and the two top wines spend up to three years in wood: Otto Rintocchi and S'Indora (a rare wine, 500-700 bottles, 100% Foglia Tonda, a native grape variety which produces elegant wines with mellowed tannins).
The Mocine wine remains the estate's emblematic wine and all the attention is focused on the Sangiovese grape which makes up 60% of this wine. The other wines are blended a second time according to the work carried out on the Mocine as well as the remaining grapes.
L'Azienda Agricola Mocine is part of an agricultural cooperative established in several regions in Italy in partnership with the Santa Marta farm. The cooperative's work pays close attention to biodiversity and ancient varieties, more resistant to diseases. So, farming includes nearly 100 hectares of rice south of Milan, produced according to ancient cultivating methods in order to preserve the nutritive values in the Carnaroli rice and Arborio (in which the Integrale wholemeal rice is to die for in delicious risottos!). The cooperative also produces an olive oil in Tuscany, mild and fragrant, (5,000 bottles) as well as milk products in Lombardy, (cream, yogurts, refined cheeses such as the Grana Padana).
Finally, note that all the qualified staff of the agricultural cooperative work closely with the Lab Monitoraggio e Conservazione delle piante, (in charge of preserving old and indigenous agricultural varieties) at Bologna University. Cooperative members also intervene at the University and work with students as part of their curriculum.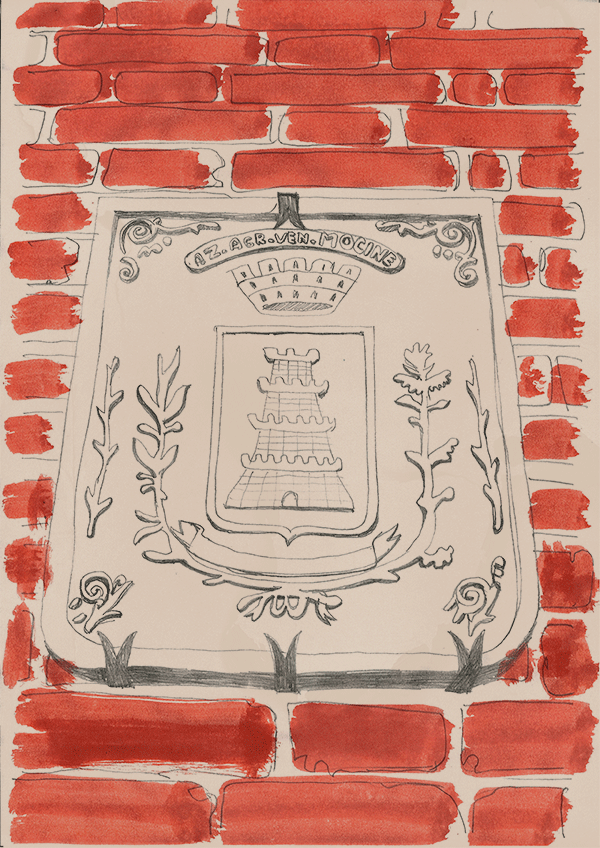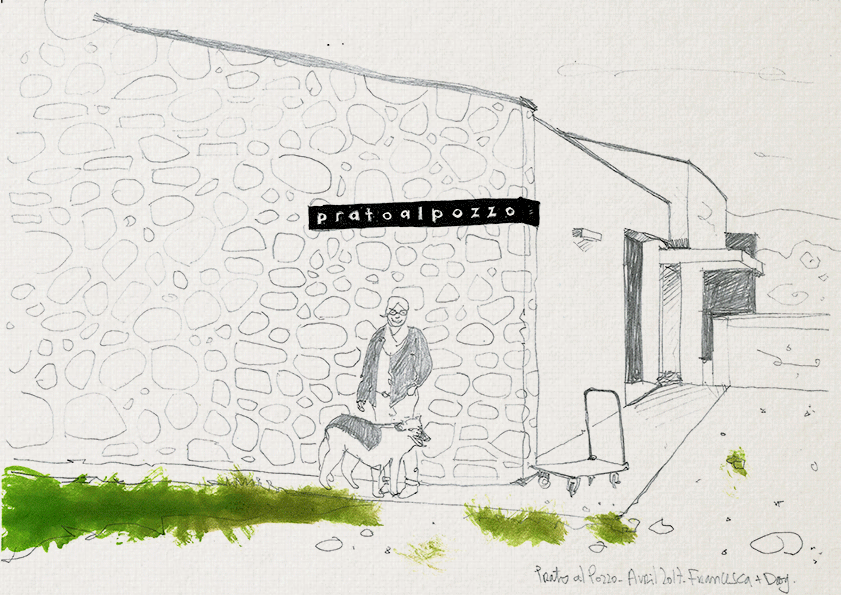 Francesca Quiriconi's battle to keep small estates in Tuscany
The following day it was an enormous pleasure to meet Francesca Quiriconi, whose wines I so appreciate. We had a meeting at the estate, Podere Prato al Pozzo, created in 2003, at Cinigiano, on the foothills of Monte Amiata which peaks at 1700 metres, which was covered in snow during our visit last April, an exceptionally chilly month for Tuscany!
The Azienda Agricola Prata al Pozzo stretches over 1.5 hectares – a tiny estate on the level of Montecucco DOC certification which covers 500 hectares – principally planted with Sangiovese, Cabernet Sauvignon and Vermentino, completed by olive trees producing a top-quality olive oil.
Francesca showed us around her recently built cellar, in which the tasting room is a balcony overlooking the magnificent Tuscan countryside, planted with olive trees and vines. A magical and soothing place to taste the estate's wines in fine conditions.
The three wines from the estate are: a Montecucco DOC (Arpagone), a white Maremma Toscana (Piede Rosso) and a white Maremma Toscana (Vermentino). The Montecucco is majority Sangiovese completed with 10% Cabernet Sauvignon (see tasting here). The Piede Rosso is rather interesting, only based on Cabernet Sauvignon with a fine consistency on the nose and the mouth where we find red berry aromas, spices and balsamic notes. Compared to the Arpagone, this wine seemed airier to me, but also more consensual.
Nevertheless, we are far from the idiosyncrasies of Super Tuscans celebrated more than 40 years ago when Bordeaux grape varieties, (the trio of Cabernet Franc, Cabernet Sauvignon and Merlot), were planted by large estates, therefore disconnecting themselves from their terroir and looking for an identity from new wood reinforcements and international grape varieties.
Here 10,000 bottles leave the cellar every year, including 3,000 Maremma Toscana. Francesca told us an anecdote about this: Chinese buyers came to visit through the Chinese Consul in Italy. They didn't speak a word of Italian and didn't say much during the tasting as part of their visit to the estate. They left as they arrived, not really very curious. Then no news for many months until their return to China when they indicated they wanted to acquire half of the entire production! Naturally, Francesca refused; such a commitment cannot be made with a single and new client for a estate of this size.
Today the estate is guided along organic principles. Nevertheless, Francesca has chosen not to seek certification for her estate because that will cost a lot for a estate of this size but equally because the process of organic certification in Italy appears to be stagnating and the inspectors would not be watching very much. She has therefore made the rigorous choice to follow her conviction of making wines with no input and will soon be moving towards biodynamic principles because the region's climate is particularly favourable. On the other hand, she is working towards obtaining Demeter certification, definitely more serious in her opinion and benefiting from a worldwide qualitative image.
Finally, we have touched on the question of certification, a local problem which is linked to current French news. As a neo-winemaker, Francesca is asking many questions about the instabilities at the heart of labels where she is producing her wines – DOC Montecucco and Maremma Toscana. In effect, it is difficult to promote small wine producers who are looking to express a plot of land through a demanding and qualitative work, trying to sell their production at consistent prices whilst some large estates (at the head of which is Colle Massari, property of a former pharmaceutical industry reconverted to viticulture with three estates in Tuscany) with more than 100 hectares producing their wines under the same labels for mass distribution. What's more, local wine consortiums being often presided over by the owners of these large estates, how do we make the work of small farms as well as the terroir a necessary part of the AOC award?
Cascina degli Ulivi 
Agriturismo Azienda Agricola
Strada della Mazzola 14
15067 Novi Ligure (AL)
Tel. +39 0143 744 598
Fax. + 39 0143 510 155
info@cascinadegliulivi.it
Azienda Agricola Mocine
Sede di Asciano Chiusure
53041 Asciano (SI)
Tel. et fax + 39 0577 707 075
info@mocine.it