"Less is more" is the monthly selection of Les Vins Célestes. I introduce 5 of my favorite healthy, natural wines through the tasting, the growing methods and the estate.
GWT, Mermoud vignerons, 2015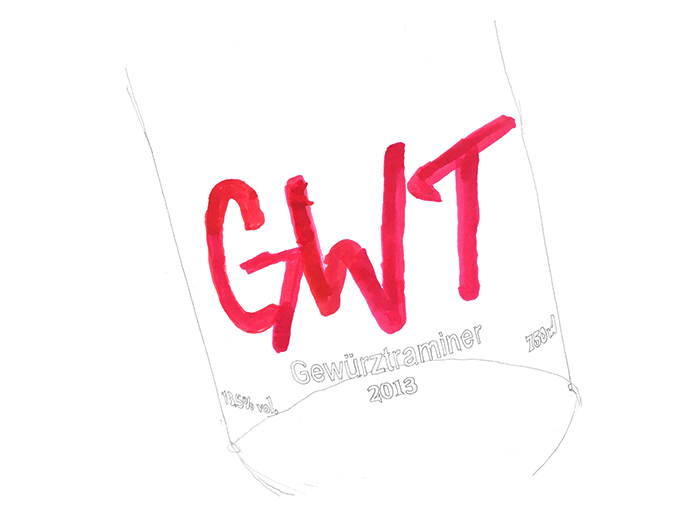 Journey in exotic lands – In Geneva, Switzerland, Gewürztraminer is not only a local curiosity: it has been well acclimatized many years ago on the hillsides around the city.
Mermoud vignerons delivers a vibrant wine that will undoubtedly turn yourself in a good mood – I see you coming, it is not a reason to start your day with at breakfast!
Ageing in stainless tank provides GWT exalted aromas, never disgusting, mainly because here, the Gewürztraminer is vinified as a dry wine – the local tradition in Geneva. Its soft and exotic notes will match perfectly with a fish curry but will also make your friends happy from the aperitif! Make sure your cellar is full of it as they will ask for more!
The estate
The estate is located in Lully, surrounded by beautiful hillsides at approximately 500 meters altitude, offering a view on the agricultural Geneva plain (vine growing and market gardening) until Mount Salève, a mountain overhanging the Geneva area. At Mermoud's estate, winemaking has increased in the 70s. Since then, there are about 13 different vines for 18 cuvées.
Despite no organic farming certification, the domain has always worked according to the same principles: quality work in the vineyard with a limited surface of 5 hectares as in the cellar where the family explores different ways of ageing wines (terra cotta amphora, egg-shapped tank, etc.). Damien, the son, is also experimenting biodynamic growing principles in a number of parcels.
The quality and consistent work is well-known by a community of alive and natural wine lovers and it is sometime difficult to get some of their cuvées! You can connect to their Facebook account to know more about the portes ouvertes event, organized twice a year at the estate.
Route de Soral, 102
1233 Bernex / Lully
Genève
Suisse
info@mermoud-vignerons.ch
+41 (0)22 757 14 19
The wine
GWT, Gewurztraminer, 2015
100% Gewurztraminer
16 euros – at the estate
Les Terres Blanches, Clos des Grillons, 2014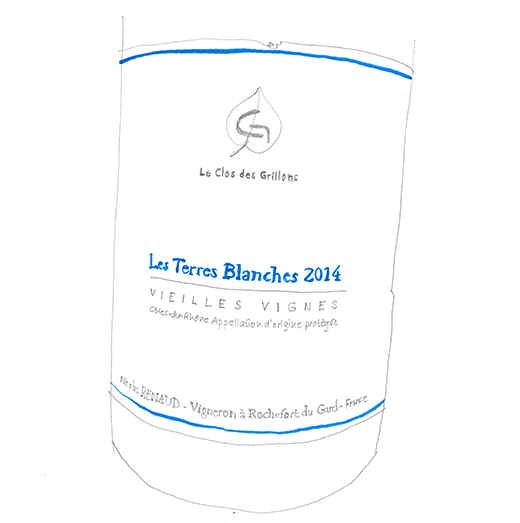 Escape the winter greyness – Established at Rochefort-sur-Gard, near Avignon, Nicolas Renaud proposes here a pleasant fruity red wine, mostly made from Grenache noir.
It is a fortifying wine. Its fruity notes embrace yourself and its softness calms down. The light texture is really appreciable because it gives this wine a welcome freshness! Aromas of Mediterranean dried herbs transport you under July's sun in the middle of the Provençal garrigue – a miracle in the middle of February under the local greyness! A pure grape juice with anything else than a lot of work to deliver such a beautiful wine.
To share with some good friends for some grilled food together with a seasonal tomatoes salad, the simplest way.
The estate
For Nicolas Renaud, the wine journey started in 2006 after a previous life experience as a geography teacher. Since 2010, he is producing wine from his entire harvest after a transition period during which he was used to sell partially his grapes to the wine cooperative of Rochefort-sur-Gard.
The estate totals 15 hectares of grenache (red and white), bourboulenc, clairette, cinsault and syrah. The entire estate is cultivated in biodynamic farming, Nicolas' guiding principles since he started 12 years ago, pretty consistent with his wine's philosophy.
25 Rue du Grand Pont
30650 Rochefort-du-Gard
France
+33 (0)4 90 92 44 47
closdesgrillons@yahoo.fr
The wine
Les Terres Blanches, Côtes-du-Rhône, 2014
85% Grenache, Carignan et Clairette
15 euros – wine merchant
Muscatellu, Vin de Pays de l'île de Beauté, Domaine de Pietri, 2007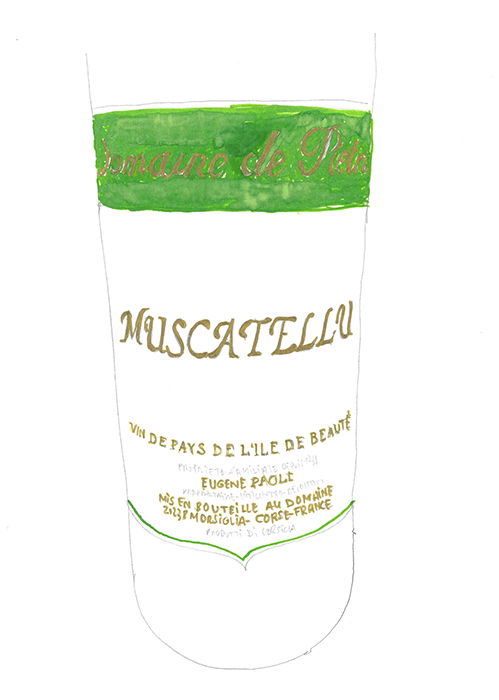 An unexpected and memorable wine from Corsica – Muscatellu, or literally, " Little Muscat ", is a wine in which Eugène Paoli was interested about fifteen years ago. Not produced anymore, it was about to disappear. Made with Muscat Petits Grains from Corsica (50 %) and assembled to Malvoisie grapes (50 %), it was considered as a " Little Muscat ", a less "pure" Muscat in a sense. However, it is made the same way: grapes are late harvested, raisined during fifteen days and pressed together after maceration. Then, the fermentation of this grapes juice continues to the end without added alcohol.
Finding an opportunity to open such a wine is not that easy and that's probably why I kept it in the cellar these last ten years. But I was quite happy to forget it because the wine is absolutely stunning!
The orange colour is slightly amber. Nose is well concentrated with recollections of crystallized citrus fruits. These notes of citrus fruits barks can be found in the mouth too. It is a wine with a beautiful personality which keep you in the present moment to enjoy it completely. Its old age has unfortunately made it a little breathless, and after an hour, the wine begins to lose length and aromas – relatively speaking for such a wine!
This wine ensures perfectly the transition from cheeses to desserts because it is well balanced – its sweetness being moderated by salty notes from Corsican Cape where vineyards are swept by sea currents.
The estate
Located close to Morsiglia, at the forefront of the Corsican Cape, Domaine de Pietri was created in 1768. Surrounding Centuri fishing harbour, it has always been a family affair. The estate is respected for maintaining traditional vinification methods of the Muscat, the Rapu and the Impassitu. Harvested the later possible, the Muscat is spread over "teghje" (lauzes), before being pressed. The estate is now managed by Eugène Paoli's daughters.
Lieu-dit Mucchieta
20238 Morsiglia
France
+33 (0)4 95 35 30 69
domainepieretti@orange.fr
The wine
Muscatellu, Vin de Pays de l'ile de Beauté, (2007)
50% Muscat et 50% Malvoisie
18 euros – wine merchant
Arpagone, Prato al Pozzo, 2010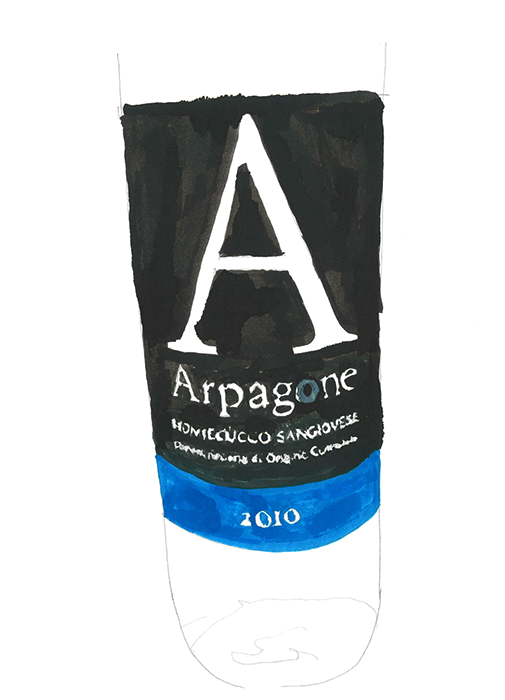 A generous wine on low yields – Arpagone is produced by the Azienda Agricola Prato al Pozzo in the province Grossetto in South Tuscany. Arpagone is a Montecucco DOC, small Tuscan appellation on the slopes of the Mount Amiata.
We tasted the 2010 vintage: the right time to open this bottle I bought during a previous journey in Tuscany the year before. In the glass, the intensity of the red colour is the sign of the greatest wines of this area. A mysterious deep red ruby. It is substantial, velvety, a bit too seductive to me at first sip with predominant plum and cherry jam. Unexpectedly, it suddenly opens, becomes much more elegant and complex with a finish on slightly smoked and spiced notes. Arpagone expresses the essence of its terroir under a sunny climate, between rusticity, sophistication and balance with a long finish that will remain in my mind for a while.
A sapid wine which will be appreciates for itself, off meal, in a meditative moment on the Tuscan hills.
The estate
The Azienda Agricola Prato al Pozzo is situated in Cinigiano, Tuscany. The estate produces two cuvées in red (and sometimes a Riserva as well) and a white from young Vermentino grapes on a quite small surface – approximately 1,5 ha for a total of 10,000 bottles. Owners also produce a subtle organic olive oil.
Francesca Quiriconi manages the work in the vineyard seconded by Fabio Ratto, her husband, as oenologist.
Wines are not certified organic but the vines are cured in a consistent way with organic growing with only sulfur and sometimes copper treatments according to the weather conditions. The fertilizers are only made from agricultural compost locally supplied. The harvest is obviously manual and begin generally in September for a couple of days given the small surface.
Francesca Quiriconi is also invested in a local association that works on information, education and rehabilitation by farming.
Podere Prato al Pozzo
58044 Cinigiano (GR)
+39 339 4301357
info@pratoalpozzo.it
The wine
Arpagone, Montecucco 2010
90% Sangiovese, 10% Cabernet Sauvignon
10 euros – at the estate
16 euros – local wine merchant
Rosso Cinabro, Azienda Loghi, 2011
A beautiful expression of Orcia terroir – I am a real gourmand of Tuscan wines, especially those from Orcia region which are, from my views, still a bit under-estimated. I discovered the promising wines from the Azienda Loghi a couple of years ago, and I am really glad that they increasingly drawing attention.
In the glass, the wine is of a beautiful deep red. Lively nose at first sight, with notes of undergrowth followed by an elegant hint of red berries. After an oxygenation for about 30 minutes, the wine will reveal aromas of raw cocoa, tobacco and, on the aftertaste, balsamic notes and crystallized cherries. Tannins are pretty velvety with a well mastered length.
A well-balanced wine, atypical, that will be a good match with Pienza's goat cheeses.
The estate
Azienda Agricola Loghi is a young estate founded in 2006 – it was previously oriented to more diversified farming activities. The grapes were sold for food or to the cooperative for generic local wine.
From 2006, Berni Valentino focused on producing his own wines to propose quality cuvées as he was confident in the potential of his terroir. He works according to the principles of the organic farming on a 4 hectares vineyard situated in 300 meters altitude.
Azienda Agricola Loghi
Berni Valentino
I Loghi San Giovanni d'Asso
Siena
cell: +39 339 1824946
aziendagricola.loghi@gmail.com
The wine
Rosso Cinabro, Orcia DOC, 2011
85% Sangiovese et 15% Colorino
10 euros – at the estate
16 euros – local wine merchant